Anchor text is part of a link and links are the lifeblood of the Internet. They allow users to click to another source of information they might find interesting.
The part of the link that we can see is called the anchor text. This portion often gives the visitor some descriptive information about where that particular link will go.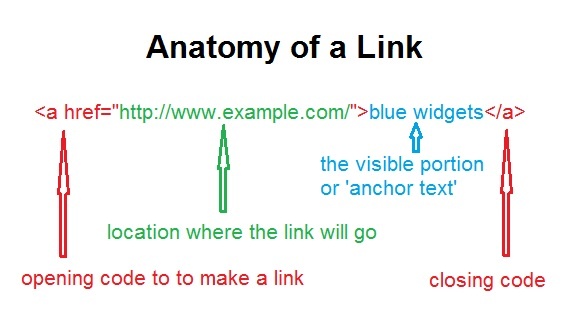 Sometimes the links will go to a page on another website or it might go to another page within the current website. The link might even go to a section of another page.
Anchor text is important to search engines
Search engines use links to travel around the web and gather information. This text also helps the search engines determine the topic of the pages they're linking to.
For example if most of the links pointing to a particular page says something like "dog grooming in Denver" (or something very similar) the search engines are pretty confident that that page is going to be about dog grooming in Denver.
The anchor text also works something like a vote. In the example above, the website with the link is saying the content on the website "example.com" is relevant for "blue widgets." The Example website would rank well in the search results for "blue widgets" if several other websites also used that term in their links.
Trap of over optimizing links
In 2012 Google released the "Penguin" update which changed the way it handled anchor text. This update discouraged over optimization.
For example it would look unnatural for a site to have a majority of inbound links using the same term of "blue widgets". In other words it looked like the company had been specifically building links rather than allowing them to happen naturally.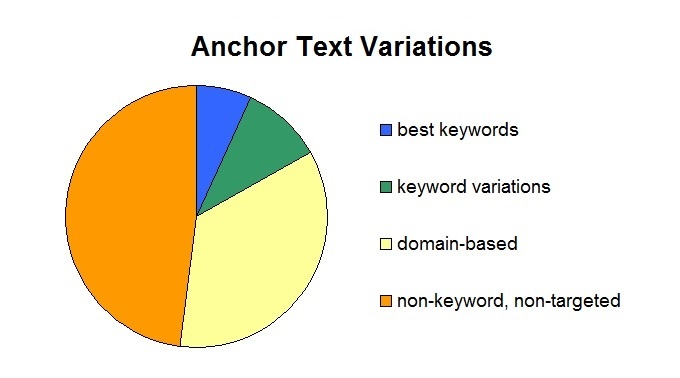 People generally use a variety of terms to describe the contents of an article. Some might use the article's title or URL address, while others might use something generic like "click here." Or they might describe what they learned, such as "blue widgets can increase speed."
Tips
When you're trying to decide what text to use try thinking of what the visitor might learn on that page. For example, "how to gather honey" or "avoid being stung" rather than just "bees." This also helps the search engines distinguish between your various articles on similar topics.
For SEO purposes though, you'll want a variety of anchor text in your inbound links. Based on the types of links listed above, you should have no more than 15-20% of your inbound links using your keywords and variations of your keywords. Then another 30-40% using some form of your URL:
http://www.example.com
http://www.example.com/
http://example.com
http://example.com/
www.example.com
example.com.
The majority of your inbound links should be something generic, for example "click here" or "this" or "more details" even though it doesn't give the visitor any helpful information.
If you're not sure about the variations in your inbound links, go to MajesticSEO and enter your website's URL in the search box. You'll see a lot of information, but for now scroll down to see the Anchor Text graph. Also try checking some of the authority sites in your niche to see the diversity in their links.
If you notice your anchor text is too keyword-rich, there are a couple of quick ways to fix it. Do a search for "article directories" and read their submission guidelines. Then write an article for each, using some non-keyword anchor text. Then search for "press release submission" and repeat. No, Google doesn't give much weight to these types of backlinks, but they can help make your anchor text diversity look more natural.
One last tip, make sure you're linking to the page you want – http://www.example.com/page.htm - rather than the just the domain – http://www.example.com.