CUSTOM WEB DESIGN SOLUTIONS
We've been building websites for over 20 years – from the 9,000-page website for the City of Denver to small, personal websites, and everything in between.
We guarantee you'll find something you like.
Ready for a new website?
Every company needs a website. It's the online doorway to your business. It acts as a virtual sales rep 24 hours a day, 7 days a week. But if it isn't mobile-friendly, if it's outdated or doesn't convert visitors into buyers, you need a custom web design solution.
And we can help with that.
Get a great looking website without having to understand any of the technical stuff. Do as much or as little as you want and we'll take care of the rest.
EASY AND PAIN-FREE.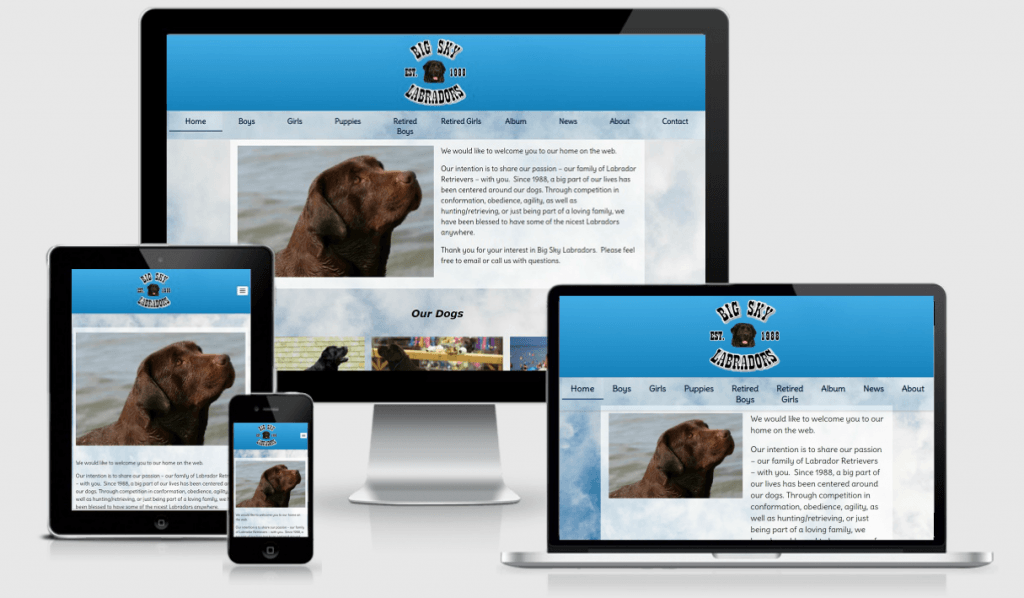 "Thank you for your excellent work!! We love it!!"
Big Sky Labradors
Steven and Shari Kirschner
PROFESSIONALLY DESIGNED
We've built large websites for state and local governments. And we've built small business websites for veterinarians, boarding kennels, local clubs and even for a stolen horse.

MOBILE-FRIENDLY
Our websites automatically adapt to various screen sizes – from desktops to cell phones. These 'responsive websites' are preferred by Google and rewarded with higher rankings in the search results.

AFFORDABLE
Quality, attention to detail, and great customer support, all while keeping it affordable. For us it's about working together with you to develop a website you can be proud of.
* Professionally-designed website built on WordPress. With over 43% of all websites powered by WordPress, it's the most popular platform on the internet.
* Instructions on how to update it yourself. Unless you want us to handle the updates for you.
* Basic optimization for search engines so your website will show up when someone searches for you.
* Mobile-friendly using a responsive design which means it's easy to use and looks great on phones and tablets – and also on larger screens like laptops and desktops.
* We can also help with hosting and/or your own domain name.