To grow your business, you need to attract new prospects, convert them into customers and get them to buy from you again and again.
When a prospect comes to your website or your store, they've shown an interest in your company. Now what do you do?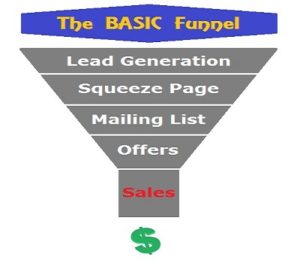 Sure, you can offer to sell them something. But wonder if they're not quite ready to buy?
Why not capture their contact information so you can make your offer again? Hopefully when they ARE ready to buy.
Problem is talking them into giving you that information.
There are so many advertising messages bombarding us every day, most people are hesitant to agree to more by giving you their phone number or email.
Step One
You offer an enticement.
It can be a contest entry. Or a helpful item that ties into your main product or service. Or a free sample - and, no, it's got to be something more than the tiny taste you might get at the warehouse stores.
For example, a carpet cleaning service might offer a small e-report on the common mistakes people make that reduce the life of their carpet.
It's got to be something they want. Something helpful and irresistible. This is a LEAD MAGNET.
Step Two
Now that they've given you permission to contact them, you continue to provide valuable information about your business and products or services.
Mix in an offer for something your prospect could use – whether more information or a physical product or a service.
The key is to price it as an impulse buy. It should be like the pack of gum displayed at the checkout counter – they don't even think about the cost. This is a TRIP WIRE.
A roofer might offer gutter cleaning at a discounted rate. What better way to make a connection with a roofing prospect and get to see the condition of their roof?
The key is to convert them from a prospect into a buyer - even if what they bought only costs a few dollars - because it causes a psychological shift. They've opened their wallet for you. When they've done it once, they're more likely to do it again.
The Trip Wire is not designed to make money, but rather to transition your prospect into a customer.
Step Three
The next step of a basic funnel is your CORE OFFER. This product or service is often designed to make something easier to do or to save the buyer time and/or money.
Sometimes they're ready to buy and sometimes they're not. You may need to continue providing quality information to get them to know, like and trust you enough to buy something bigger from you.
Step Four
When they do buy your core offer, you follow that with an UPSELL.
You've probably learned about this already when you've been asked, "Do you want fries with that?" This simple phrase makes millions of dollars for McDonalds every year and it works the same way for just about every other type of business.
Sometimes these upsell offers are multiple copies of the same product at a bulk discount. So instead of buying just 1 bottle of a supplement, your customer may buy 4 bottles because of the discount.
Sometimes it will be a related product. Perhaps you offer a basic candle making kit and as an upsell you offer a variety of scents to add to their candles.
Sometimes it will be a done-for-you offer. You've provided the steps and information to fix a problem your customer has, but maybe they don't have the time to implement it. So, you ask, "Want help with that?"
And sometimes it's a membership product. Columbia House was an early adopter of this type of offer. You got 6 albums for a penny and every month you would get another album shipped to you automatically.
These offers can all increase profits. Sometimes dramatically.
Each of the steps in your funnel will weed out the lookers from the buyers. If someone doesn't buy on the first offer, you can continue to provide more information and offers.
When someone does buy, they're moved to a different set of emails and offers.
That's your basic funnel.
If you'd like some help designing and/or testing your funnel, give us a call today!