You know you have to market your business, but when do you have the time? Right?
You wear a lot of hats, but wish you could just run your business. Yeah?
You know about advertising and social media and getting to the top of the search results … but –
which will help you reach the right people?
which works the best to bring in customers?
which is most cost-effective?
That's where we come in. Contact us for a free consultation and we'll help you find what works best for your business, so you can get back to running your business.
** Click on the image to see it full size **

What can you do to make your customers feel special?
Greet them when they come in, even if you're already helping someone.
It doesn't take much to make eye contact, smile and say something like "Hi, I'll be with you in just a minute."
Don't ask something generic like "Can I help you?" Most people are going to say "No" or "I'm just looking" out of habit. And for guys this ranks right up there with asking for directions. "Argh! I don't need no stinkin' help!"
Don't let them off with an "I'm just looking" response. People rarely go to a store just to look. If they really are just looking, cheerfully (but not pushy) offer whatever information they might need to decide on what they want. It doesn't matter if they're not ready to buy today, but you will have scored brownie points for when they come back or when someone they know asks for a recommendation just because you've made them feel special.
Here are a couple of examples of good customer services:
I needed tires for my truck in a hurry because I was heading out of state and there just wasn't enough tread left to feel safe.
DB Speed in Parker came to my rescue. I got their name from a friend, called and they said bring it in and we'll take care of you. Not only were they waiting for me, they got my truck on the rack quickly and I was out the door for less money than I expected.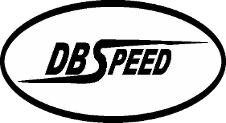 If you need tires or other work on your vehicle, check out DB Speed and tell 'em I sent you!
A little later that day I made a trip into town and stopped at Office Depot. As I came in the door I was greeted like a long-lost friend. Then Cassie waited on me and asked how my dogs were doing. I don't get in there very often, but she remembered me. Again, I felt special.
Will I go back to either or both businesses? You BETCHA!
It didn't take much, but both businesses made me feel special and that they were glad to have my business.
As Scott Stratten says in his book UnMarketing:
"You must view every person who walks through your door as one person removed from your ideal client, and treat him or her as such. I am not an interruption to your day. I am not an inconvenience. I am a potential customer, and a word-of-mouth machine that can spread the word, good or bad. You choose. At every point of engagement, you are marketing your business."
So here's a shout-out to Dave at DB Speed and Cassie at Office Depot, both in Parker. Great job guys!
I find I do my best work when I'm doing something mindless, like housework. Or driving.
And I was a little late adopting cell phone technology. Okay so I was a LOT late. Is there a late-adopting-cell-phones group?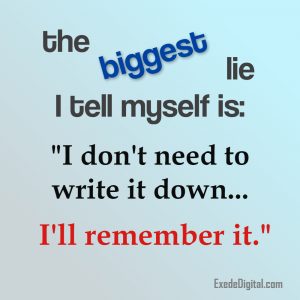 I remember my first one.
It was almost as big as a briefcase.
I didn't use it much, and the one time I really needed it – no cell service. I'd gotten it in case I broke down somewhere and, yep, I broke down in the middle of nowhere.
After that I got different service and smaller phones, but basically they were just phones.
Then I got an iPhone! It has all sorts of productivity helpers.

My favorite little helper? Notes.
Raise your hand if you've heard of these ancient technologies – steno pads and dictation. It used to be a boss would call in the secretary and while he talked, she wrote in shorthand. Later she would type it up. If there were any mistakes or additions she would have to type it all again.
Stone Age.
Now I open the Notes app, click on the little microphone and start talking. No it's not perfect. Sometimes I talk too fast or maybe I mumble. The little 'thinking' symbols do a shimmy when it can't figure out what I said.
Most of the time it works really well. I'll be driving along – thinking bad thoughts about the idiot who cut in front of me – and a concept I've been working on will pop in my head.
Before I would have to try and remember it – not easy when those bad thoughts are still swirling around in there. Sometimes there was a piece of paper handy. But trying to write and drive in traffic are not things that go together well.
Now I talk to my phone and no one thinks it's weird.
If I need to I can email my notes to myself or copy and paste into another app, like Facebook. Easy peasy.
Another favorite app? Reminders.
I used to use lots of sticky notes, but it was bad for the environment and I'd often lose them.
Now I click on Reminders, type a little note, choose Remind Me and set a date and time. There's room for more notes and it can be set to remind you every day or every week or whenever.
I even set it to remind me to feed my dog lunch. Now I don't usually forget to feed my dog, but she had puppies and needed an extra meal to keep up with their demands. I often work through lunch, so it was a good reminder to take a break too.
Another great app is Evernote.
You need to download it to your smart phone and/or computer, but it's worth the time. It can copy webpages and PDFs for you to read later and even include your own notes. And it has a little button you can add to your browser to make it easy to save that interesting content.
It can be a project management system.
It integrates with just about everything. Using IFTTT (If This Then That) means that you can automatically send content from your other services right to Evernote.
It can also sort your content into more manageable 'notebooks.' And when you use it as a repository for all of your notes and webpages and reference material, you can search in one place to find the information you need. Tagging each note and adding links can make everything much easier to find. And you don't need to keep multiple copies when you have something that might fit into multiple notebooks. Just tag them. Check out Brett Kelly's post to learn more about tagging
And you can access it from just about anything – your laptop, your tablet, your smartphone. For example I love to try new recipes and often come across some tasty sounding ones on Facebook. I click to open the webpage with the recipe, click the Evernote icon to save the page and, later when I'm at the grocery store, I can access Evernote with my phone to see what ingredients I need to buy.
What apps do you use to help with productivity?
One marketing tactic the food industry uses to influence what we buy is color. (And no, it's not just the food industry doing it.)
Red means stop and pay attention,
black can mean high quality,
white is purity
and now green means natural.
It's enough to confuse even the most careful shopper.
A recent experiment had volunteers look at a picture of a candy bar. Some looked at a picture of a bar with a red label and some looked at a bar with a green label. Then they were asked how healthy they thought it was compared to other candy bars. More people thought the bar with the green label was more healthy, even though everything was identical except the color of the label.
Then they added a twist to the experiment – same pictures of candy bars, but this time the label was either green or white and the volunteers were asked to rate how important healthfulness was in their food buying decisions. Volunteers who didn't place much value on eating healthfully, rated both bars about the same. But volunteers who did care about healthy eating rated the bar with the green label considerably higher. Again, the only difference was the color of the label.
Was the difference because the healthy eaters thought the green label meant the candy bar was more natural? It's important to pay attention when you're shopping.
Did you know grocery stores have been using similar tactics for years? Aisles are just wide enough for two carts to pass each other. You not only have to slow down to pass, but stop entirely when one cart is in the middle or when a third shopper comes by. Marketers know when you get someone to slow down or stop there's a better chance they might see something else they might want to buy.
Casinos do the same thing. Twist and turn through the narrow aisles between the machines and you might decide to spend more money.
There are also the end caps – the shelves at the end of each aisle in the grocery store. Do you think they're highlighting that week's specials? Sometimes. But marketers know you have to walk by the end caps every time you turn the corner AND when you're walking along the front or back of the store.
Prime real estate!
So, yes, they'll put some specials there because shoppers expect sales, but mostly they're going to put the high margin items there knowing shoppers might think they're on sale and buy more.
Along the aisles, the things they want you to buy are clustered about 5 feet above the floor. Marketers know that's about eye level for most shoppers and its easier for shoppers to notice products at that height. A different brand of the same product – just as good – might be placed higher or lower, making you do a little more work to choose it. Worth checking out though because you might just find a better deal.
Kid's products are an exception. I bet you'll find the priciest and most enticing kid's products clustered about 2 to 3 feet off the ground.
Here comes mom, toddler in tow, and what does he spot? That brightly colored, must-have toy or what-not. Think mom's going to get out of the store without buying it? Well if she doesn't buy it, I'll bet people a block away will hear what her toddler thinks about that!
How can you use some of these tactics to manipulate – um, 'encourage' – your customers to buy more?