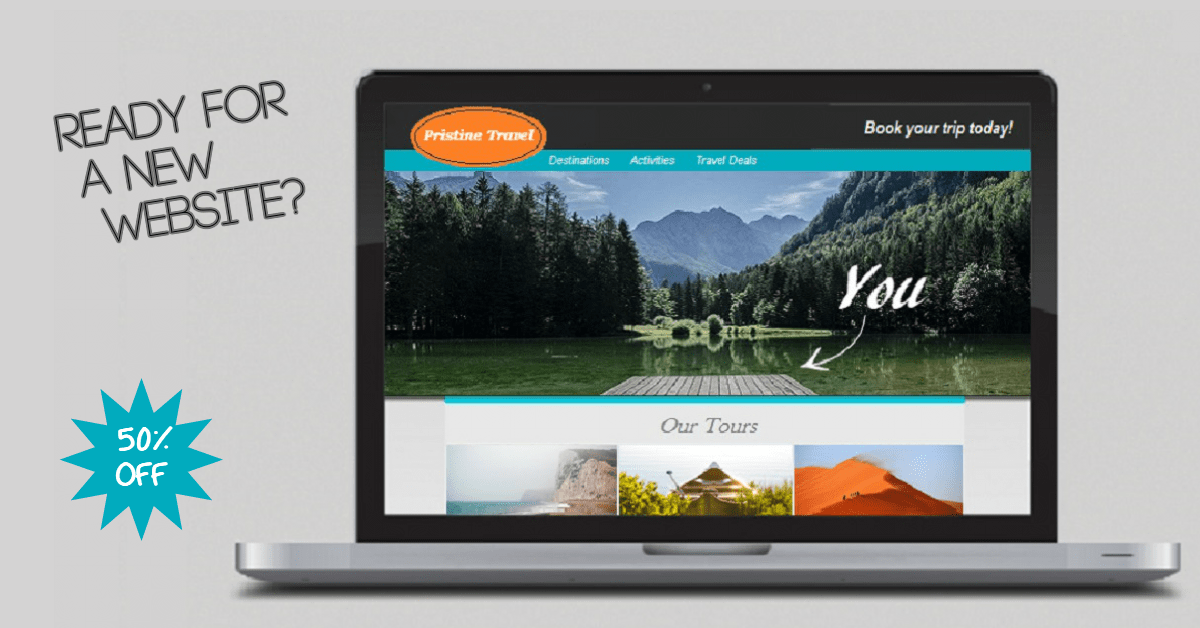 It's our 15th anniversary, help us celebrate!
Call 720-466-1518
before the offer expires
Is an outdated – or non-existent – website costing you customers?
You've tried to do it yourself, but you just don't have the time.
It's not your fault.
You have a business to run and it seems like hundreds of things demand your attention every day.
If you can relate to this problem, we have the solution.
We are also a small business and we're dedicated to helping other business owners get back to doing what you do best – running your business.
In fact, if you click on one of the buttons below you can have a professional website created just for you within a few short weeks.
Imagine what it would be like to cross another task – a big one – off your to-do list. No more worrying how you'll fit it into your busy day. No wasting time trying to learn how.
For 15 years, we've been building websites for a variety of customers – from local governments such as the City and County of Denver and the State of Washington to local clubs and small businesses.
Thanks for taking care of us. We have been getting several calls a day in-state and out.
– Debbie Eichhorn, Calhan, CO
A professional website will:
Help you get – and keep – more customers
Establish you as a leader in your market with a crisp, modern and eye-catching website
Appeal to a wide audience because your website will look great no matter what type of display is used
It wasn't that many years ago a website was nice to have, but not really necessary.
Now a customer's first contact with your business is usually online and often using a mobile device.
And they're quick to switch to a competitor's website if they can't find what they want. Google reports that 40% will switch after a bad mobile web experience and 57% won't recommend a business with a bad mobile site.
Don't let your customers slip away!
Professionally designed website built on WordPress.

Mobile-friendly using a responsive design which means it looks great on phones and tablets!

Basic optimization for search engines so your website will show up when someone searches for your product or service.

Uploaded to your hosting and domain name – no worries that the web designer could hold your website hostage.

Instructions on how to update it yourself. No more waiting – or paying extra – for a web designer to do it.

We can also help with hosting and a domain name – starting at $4.99 per month.
But don't delay. This offer will only be available until Sunday at 8pm MDT.
After that, the price will go back up.
And be sure to move fast because we can only offer 20 websites at this price.
Try It Risk Free: If you're  not satisfied with the website we build for you, you can cancel and get a 100% refund.
Click on one of the BUY NOW buttons below to get started.
Bronze
Basic Mobile Site With Up To 3 Pages Of Content Normally $396
$198
BUY NOW
‌‌‌ ‌Home
‌‌About Us
‌‌Contact‌‌
Silver
Mobile Site With Up To 7 Pages Of Content Normally $596
$298
BUY NOW
‌‌‌3 Basic Pages
‌‌Extra Pages
‌‌Email Support
Gold
Mobile Site With Up To 15 Pages Of Content Normally $896
$448
BUY NOW
‌‌‌3 Basic Pages
‌‌Standard Pages
‌‌Extra Pages
‌‌Phone Support
P.S. A professional website can help you get, and keep, customers. But don't delay, the price will go back up on Sunday evening. Remember there is no risk with our 100% money back guarantee.
Frequently Asked Questions
Still sitting on the fence? Here are some of the most commonly asked questions.
Q Why 50% off?
If you're thinking "50% off is cheap…what's the catch?" then here are four reasons that should put your mind at ease.
1. This price puts a professional website within reach of every business owner – from solo entrepreneurs to startups and all the way up to Fortune 500 companies.
2. It weeds out the tire-kickers. We only want business owners who take action, not someone who needs to think about whether they really want a professional website.
3. We also believe that once you've worked with us, you'll want more. And maybe you'll come back to try some of our other services.
4. It's fun! We started out building websites and we still enjoy doing it.
But that's it…
No fine print. We won't bug you to hire us for something else. No shenanigans.
Q Is there a guarantee?
Yep. There's a 100% satisfaction guarantee.
If you're not happy, for any reason, just let us know and we'll give you your money back. We obviously don't think it will come to that, but if you're even the least bit worried whether this will work for you, then put your mind at ease.
You either get what you want or you get your money back. It's that simple!
Q How long does it take to get my website?
It depends on a couple of factors.
First, how many websites are in the queue before you. That's why we're limiting it to only 20 websites. We know the offer is popular, but we don't want you waiting months to have your website.
Second, it depends on how quickly you can get your information to us. Once we've confirmed your order, we will email a questionnaire to you. We want to know what your website looks like in your imagination. What colors, which fonts, how you want to organize your text, which images …
The sooner you can send that to us, the quicker we can get started.
Generally, it will take about 2-3 weeks once we have your information to build your website.
Hurry, Order Your Professional Website Now!!
You'll get:
Professionally designed website built on WordPress
Mobile-friendly using a responsive design which means it looks great on phones and tablets too!
Basic optimization for search engines
Uploaded to your hosting and domain name
Instructions on how to update it yourself
Bronze
Basic Mobile Site With Up To 3 Pages Of Content Normally $396
$198
BUY NOW
‌‌‌ ‌Home
‌‌About Us
‌‌Contact‌‌
Silver
Mobile Site With Up To 7 Pages Of Content Normally $596
$298
BUY NOW
‌‌‌3 Basic Pages
‌‌Extra Pages
‌‌Email Support
Gold
Mobile Site With Up To 15 Pages Of Content Normally $896
$448
BUY NOW
‌‌‌3 Basic Pages
‌‌Standard Pages
‌‌Extra Pages
‌‌Phone Support