An important part of nudging your website higher in the search results is earning backlinks.
What Are Backlinks?
Backlinks are links on other websites pointing to your website or page. They're also called incoming or inbound links.
They help visitors and search engines discover your content via anchor links on other websites and web services.
Why Are Backlinks Important?
It's because someone thought your content was good enough to share with their own visitors by linking to it. Each backlink acts like a vote.
Search engines use backlinks as a vote in deciding your website's search engine ranking. The more votes, the better. But more important is the quality of the link – which includes the ranking of the site linking to your page, the anchor text used and the relevancy of both websites.
So, for example, a link from a high-ranking website like The NY Times would count for more than a link from Joe Schmoe's blog because of overall quality. However if Joe's blog has quality content AND is in your same industry, it could count for more than a link from a well known website because it's probably more relevant.
Another example might help. A link from a French restaurant pointing to the country veterinarian's website probably wouldn't help much because they're in different industries. However… if there was a bacterial outbreak and this veterinarian is the USDA inspector for the meat served in the restaurant and he says this particular meat passed inspection, the link would make more sense. It would be relevant.
Search engines also analyze the anchor text because it's usually relevant to the linked-to page. (There's that word again.) Most important is whether the anchor text helps a visitor understand what type of content they'll find when they click on the link.
History
To better understand what can help – and what can get you in trouble – we need to take a look at what's happened in the past.
Back in the stone age of the Internet, Yahoo and AltaVista were the best-known search engines. They looked mainly at information webmasters put in meta tags and at keyword density to figure out what a page was about and used that to decide on rankings.
Unfortunately that led to keyword stuffing – the more the merrier – both on the page and in the meta tags. If the website owner thought there was a chance – even a teeny one – that the site would rank for a certain word or phrase, they added it. It didn't matter much if it had anything to do with the actual content on that page. That made it hard for the search engines to tell what a particular page was really about.
Then Google came on the scene and started looking at the number of inbound links to a website. They reasoned if someone was willing to link to a website, it must be good. So the more backlinks, the higher the ranking.
At first it worked well because the search results were more relevant. Then people figured out how to 'game' the system and link farms were born. Everyone wanted links and it didn't matter how they got them. The sheer number of backlinks was the only thing of importance.
Lots of crummy websites ranked high. For awhile.
Google took note and updated their algorithms. You may have heard of the Panda and Penguin updates.
After Panda, websites with rankings based on poor quality backlinks tumbled. Hard. Roughly 12% of searches were affected.
Penguin targeted websites that over-optimized the anchor text in the backlink. Basically, webmasters had found a way to stuff keywords into their backlinks. They were putting their main keyword into every backlink, hoping that would help the website rank high for that keyword. But in natural linking, the main keyword isn't used very often. In most cases, the anchor text would be something generic, like 'click here' or 'Acme Co' or the website address.
These updates were aimed at webmasters who tried to game the system. Instead of providing quality content, they took shortcuts to get their websites ranked higher. As Google learns more about these black-hat techniques, the search engine results get better and more relevant.
What Does The Future Hold?
Here is a video of Matt Cutts, head of search at Google, discussing backlinks and the future. He believes backlinks will still be important for many years, however Google continues to work on more ways to determine whether a page meets a user's expectations.
In a nutshell, backlinks are still important, as are the quality of the content and the reputation of the site.
How Do You Build Backlinks?
Now that you know why you should get backlinks and how the search engines have evolved, you need to know how to develop backlinks today.
Start by spying on your competitors to see where their backlinks are coming from and maybe add those links to your website.
Search for your keywords and phrases in Google.
Copy the URL for the top result – just make sure you've chosen a search result and not an ad.
Go to Alexa.com and where it says 'Enter a site', paste the URL and click Go. Scroll down to the section 'Total Sites Linking In' and make a note of each site listed as a backlink.
Go back to the search results and copy the URL for the next listing, submit on Alexa and make a note of each backlink. Repeat for the top 5-10 Google results for your keywords.
Take a look at each of the backlinks you've collected. Some may be good, some may be questionable and some may be terrible. Try to get backlinks from the good sites, but only if they're relevant to your website.
When you find backlinks from directories, submit your website's link there too.
When you find backlinks from forums, sign up and include your link in your profile or comments.
When you find backlinks from social sites, add some content of your own and include your link.
When you find backlinks from websites and blogs, check to see if you can guest post in exchange for a link.
More ideas that we'll be covering in detail in future posts include:
Sharing your content on social media website such as Facebook, Twitter, Google , Pinterest and others. Social signals and links can help increase your rankings.
Posting your content on Reddit.com and Delicious.com. Just remember not to post only your own content and look like a spammer. You don't want to be banned.
Posting your own videos on YouTube.com and including links back to your website.
Submitting press releases online when your company does something news worthy. You can try some of the free sites, but to get the most link juice use the paid versions like PRWeb.com to syndicate your press release to a large number of news and TV station websites, local newspaper websites, popular blogs, and other mainstream web properties.
Write original content and submit to article directories. But be careful because some article directories were created as link farms and have been de-listed from the search results. A link from a directory like that would hurt your search rankings. Also submitting the same article to many directories will hurt your rankings and possibly cause your website to be de-listed.
These are only a few suggestions to consider. Just remember to try for quality and relevant links for the best results. It can be a long, slow process. Don't be seduced by the dark side into trying to build links too fast or accepting spammy backlinks. You want your website to grow and prosper, not go spinning off into a black hole.
What have you tried? And how well did it work?
You might also like:
Today is not only Friday the 13th, but it's also the day of the full moon. So in honor of both, here are 13 ways to make your pages shine brightly.
1. Provide quality content.
Google describes a site with quality content as "helpful, information-rich … pages that clearly and accurately describe your topic." Also "think about the words users would type to find your pages and include those words on your site."
Concentrate on one topic per page. If it's a larger topic, concentrate on one portion of the topic per page. For example, instead of trying to explain gardening on one page, break it up. You might have one page on preparing your garden site, another page on choosing the right tools, another page on growing a garden in the shade, and even those topics can be broken down some more.
Use your unique knowledge and experience to bring a different slant on your topic. The Internet is so huge, it's a good bet there are many other websites about your topic. The difference is they don't have you. Capitalize on that to make fresh and unique content.
Use a spell-checker. Many spelling errors and a sloppy design are two sure-fire ways for your website to scream 'amateur'!
2. Utilize long-tail keywords.
I heard an explanation of long-tail keywords from a man who lamented of ever making the cover of Sports Illustrated's swimsuit issue. He thought if he could get them to change the rules, he'd have a better chance.
So he decided to ask if they'd open it up to men. Then he realized there are a lot of men he'd have to compete against. So maybe if it was only open to men who lived in Texas. Hmmm, still lots of competition. How about men who lived in Seguin, TX? That's better, but still a little too much competition. He finally decided on asking if they'd open the competition to men, who lived in Seguin, TX, who were bald, and who owned a canary. He figured that way he'd have a pretty good shot at winning it!
It's pretty much the same with long-tail keywords. Find a small, sub-niche of a category and you'll have less search volume, but less competition. Just be careful that you don't focus so tightly there isn't anyone interested in your topic at all.
More people are now searching on long-tail keywords, such as 'home remedies for dandruff', rather than just 'dandruff.' That means you don't have to guess what that visitor wants or run an A/B test, he's already told you. If you have a page that meets his criteria you have a pretty good shot at converting him into a customer.
3. Make your site easy to navigate both for visitors and search engines.
Think about how visitors will use your website. Can you group your individual pages into a few different groups? If so, make a general page for each group and then pages within that group or even sub-groups with pages within that group. Just don't go too deep because the URLs will become unwieldy. Additionally many search engines won't crawl very deep into your site because they figure your most important pages will be near the top of the hierarchy.
Along those same lines, group all of your images in a separate upper-level directory to simplify the path to them.
To further help visitors and search engines, create sitemaps for each. The sitemap for visitors can group your content by main categories, plus your additional pages like the About Us, Contact and Privacy Policy pages. For search engines, you should create a file named XML Sitemap. If you're using WordPress there are plugins that will make this file for you.
4. Check your title and description meta tags.
Meta tags belong in the HEAD section of your web page. This is where the page's setup starts, although this section doesn't show directly to the visitor. You can see it by clicking on Ctrl-U (Command-U on a Mac). You can also use the tool bar in your browser.
The title meta tag – <meta name="title" content="Starbucks Homepage"> – is similar to the <h1> tag, but this is the text Google will generally show as a link to your page in the search engine results. (By the way, can you think of a different title rather than 'Starbucks Homepage' for better SEO? Hint – What is their famous product?)
The description meta tag gives the search engines a summary of what your page is about. This is usually the text Google will show just after your page's link in the search engine results. However, depending on the visitor's query, Google may choose a snippet off your page to show instead.
Be sure to use a unique title and description for each page on your website to help visitors find the information they need. Also avoid using too much information (such as filling it with keywords) or too little information ('this is a web page').
5. Use the author tag to get credit for your content.
(Updated for 2019: Although this seemed like a good idea, it never gained much traction and is no longer available)
In Google's quest to deliver the best and most relevant content to searchers, they're now connecting authors with their content. The idea being a good author will provide good content no matter where he or she is writing.
Adding this link to your articles can make a big difference in how your content appears in the search results. If you haven't already, sign up for a Google account and fill out as much information as you can. Be sure to include a photo of yourself. And add the name and complete URL of your website (and anywhere else you contribute).
When you're finished, grab a copy of the URL. It should look something like this – https://plus.google.com/111186258783174834786/. You specifically want that long string of numbers. That's your unique identity to Google.
Now go to your website and create your author bio, including a link back to your Google profile. If your bio included a line like 'Connect with me on Google ' and you wanted the words 'connect with me' to be the anchor text, use code like this –
<a rel="author" href="https://plus.google.com/111186258783174834786/">connect with me</a>
– replacing the string of numbers with your unique number.
After it's all connected, when your content appears in the search results there will be additional information presented. That information can include your photo, plus your name and number of people within your Google circles. Why do you want this additional information? Because according to SocialMediaExaminer.com, "people are more likely to click on links associated with author images and profiles than those without."
6. Use the heading tags on your pages correctly.
Heading tags change the formatting of text and give visitors visual clues that these words are important. The tags are also important to search engines.
<h1> is an heading tag that means 'Heading 1' and tells the search engines that this is the title of the page. They will generally display this text in the clickable, first line of results. Make sure it's descriptive and unique for each page. When you're trying to come up with a good title, think of your favorite book titles. They give you an idea of the book's content and sometimes use a play on words or something enticing to catch your interest.
Sometimes when you use software to build your website, it will give each page a temporary title such as 'New page 1' or even 'untitled.' Be sure to change it to tell your visitors what your page is about. And don't use the same title on more than one page; every page's title should be unique.
Make your content easier to read, particularly for people who skim, by using sub-headings. The <H2> tag tells the browser to display the text a little bit different to catch the eye of your visitor. It also gives the search engines another clue about the contents of your page.
7. Use bold and italics to highlight certain words.
Have you ever read an article where a word or two was highlighted and you slowed down to emphasize that word in your head? Yep, just what the author wanted you to do. It's human nature.
Will it help your page ranking? A little, maybe, but probably not much. However if it helps your visitors understand and like your content, their actions can affect your rankings. So do what you can to spice up your writing – just don't go overboard.
Try highlighting a word or two to make the reader sit up and take notice. You can also use lists to break up lots of text. And keep your paragraphs short. Many short paragraphs are easier to digest than one, long, ongoing paragraph. Also don't forget about using sub-headings at the beginning of each section to help visitors find just the content they want.
Things not to do:
Bolding an entire paragraph.
Emphasizing just your keywords.
8. Use ALT and caption tags for your images.
Have you ever gone to a website and where there's supposed to be an image all you see is a red X? Don't you wish you could see that image? Webmasters try to keep all links up to date, but stuff happens.
You can use the ALT tag to specify alternative text for the image if it can't be displayed. It's also helpful for people who are visually impaired and for search engines who can't 'see' images.
Along that same vein, don't put important text in an image. Because search engines can't see it, they can't index it, which means that content won't help your page get found.
It doesn't make visitors happy either. I love searching for new recipes to try and I've seen some websites post pictures of the entire process – this is good – however they print the ingredients and the directions on the images – not good. I like to save the recipe on my computer for later, rather than trying to remember where I found it or copy each picture and hope I didn't miss any of them.
Using the caption tag in addition to the ALT tag gives you one more place to tell visitors and the search engines what your page is about. Use this tag to describe the image in a slightly different way and perhaps include a portion of your keyword phrase.
9. Use simple to understand names for your files and links.
Descriptive names will help visitors and search engines understand what your content is about. Names like page1.htm or pic.gif are of no help. Names that are too long or filled with keywords are not helpful either.
When people link to your content, they often use the URL as anchor text. Which do you think would get more clicks?
http://www.example.com/en/dir1/1054890/x2/000016a.htm
or
http://www.example.com/how-to-cook-a-pork-roast.htm
10. Link to other pages.
One of the greatest aspects of the Internet is linking to other pages and websites for more information. Make it clear what the page you're linking to is about. Anchor text – the highlighted part that you would click on – should be a 2-3 word summary about that page. That's much more useful than anchor text that says 'click here.' Visitors like links to more information and the search engines like it, but don't overdo it. A 200-word page with 50 links is a bit much.
Be sure to link to other pages on your website from within the various pages. If you have a comprehensive topic and have written several pages of step-by-step directions, break it into several pages. At the end of the step 1 page add a link to step 2. At the end of the step 2 page add a link to step 3 – and also back to step 1 in case a visitor landed on page 2 and wants to start at the beginning. If you mention a concept on one page and have another, more detailed page about that concept link to it. Your visitors will thank you.
11. Avoid penalties for duplicate content.
If you have duplicate content, the quickest way to deal with it is to remove it.
In the past, people were posting duplicate content to article collections and to networks of sites with links back to the original to get better rankings in the search engines. When Google rolled out the Panda algorithm those sites tanked.
Sites with duplicate content will still be penalized. But sometimes you need that duplicate content – such as sales pages for products with various options or printer-friendly versions of pages made in PDF.
If you have duplicate content on your website, you need to tell the search engines that the content is a known duplicate, but is needed to enhance the visitor's use of the website and that the original source can be found at a specific location.
For example, a website that has several ways to access the same product for sale – eg 14″ frypan, green frypan, brandname frypan – can use a canonical link to the preferred URL. I In the <HEAD> section of each of these pages you would add something like <link rel="canonical" href="http://example.com/frypans/brandname-frypan/"> if 'brandname-frypan' is the preferred page.
12. Choose which pages and directories search engines are allowed to index.
Search engines use software code to crawl and index content on the web. These bits of code are called 'robots' or 'bots' or 'spiders.' To control what these spiders see you can use a file titled 'robots.txt.' It must be placed in your root directory, for example 'http://example.com/robots.txt.' If you place it in a subdirectory – for example, 'http://example.com/folder/robots.txt' – the spiders won't find it.
Within the robots.txt file you can tell the search engines if there are pages or even entire directories you don't want indexed.
You generally want these spiders to find your content, but sometimes you want to stop a page from being indexed. Why, you ask? Each page on your website shares a little bit of the link juice passing to it, and link juice is a good thing because it helps your pages rank higher. But you have pages such as 'Contact Us' and 'Privacy Policy' for your visitors although they don't add anything to your rankings. You'd want to stop those pages from being indexed and leaking some of that link juice. To do that, use the robots meta tag – eg <meta name="robots" content="noindex"> and place that in the <HEAD> section of just those pages. You definitely don't want it on any of your important pages because the meta tag will prevent the page from being listed in Google's web index!
The robots file is another way to prevent pages from being listed, but only if no other websites link to it. If you use the robots meta tag to stop a page from being crawled, don't include that page in the robots.txt file. If the spiders are not allowed to crawl a page because of the robots.txt file they can't see the meta tag directives and may index it anyway if another website links to it. The robots meta tag will completely block a page from being indexed.
Don't rely on the robots file or meta tags to protect sensitive content. Instead encrypt it or place it within a password-protected subdirectory.
If you need help developing a robots.txt file for your website, Google offers a robots.txt generator in their Webmaster Tools.
13. Use a text browser to examine your site.
You've done all the work, now it's time to see how the spiders see your website. If you're using special features such as frames, JavaScript or Flash in your website, the spiders may have trouble crawling it.
Go to https://merabheja.com/12-text-only-browsers-for-browsing-in-slow-internet-connections/ to learn more about text-based browsers with links to each of the browsers they reviewed. Download one and give it a try. It's a very different experience, but you'll see whether the content you've worked so hard to create can be indexed by the search engines.
There you have it. Thirteen magical tips to make your website shine. Now I think it's time to howl at that moon!
Mobile usage is growing – not only to surf the Internet, but also to check email, comment on social media sites and to shop. Almost everywhere you look lately there are people using their mobile devices for tasks that used to be done on desktops.
If you have an online business, you should have a mobile-friendly website with a responsive design.
If your website isn't easy to access from a mobile device you're losing business.
Sure someone with a smartphone will be able to see your website, but with difficulty. The pages will look tiny with even smaller text so they'll have to pinch and scroll to read any of it. Then trying to click on buttons or text links with be an exercise in frustration because of the tiny size.
Most users will just leave and probably not come back.
Did you know over a BILLION people use smartphones to find products and services on the Internet? Maybe it's time for you to update your website.
Some things you need to know about mobile-friendly websites
There are two types – a separate, mobile-only site and an all-in-one responsive site.
First is the mobile-only website which is separate from your regular website. Special coding is added to detect the type of device your visitor is using and send them to the appropriate version.
Often the mobile-only website is similar, but not identical, to your regular website.
The other type of mobile site is based on responsive design. It uses programming code to adjust the website to fit whatever size device the viewer is using. It doesn't make the site smaller, but rather rearranges sections to fit the device – somewhat like rearranging a child's building blocks.
The site you're using now is responsive. If you're viewing it on a desktop or laptop, try reducing the size of your browser window by grabbing the edges and dragging them inward. You'll be able to see the site respond in real-time.
How do the two website types stack up?
Both properly-designed separate and responsive mobile websites look great on all devices. Tie score.
Responsive sites require less maintenance than a separate, mobile-only site. Score one for responsive.
When updating, the separate, mobile-only site requires you to update both versions of your website. And it needs to be carefully done, as Google penalizes duplicate content.
In contrast, with a responsive design you don't have to build and host a separate mobile-only site or update two different sites or worry whether it will work correctly on the various mobile devices. So whether you update your site yourself or pay someone to do it, a responsive site requires less maintenance and is more cost effective. Score two for responsive.
Responsive sites are preferred by Google. The duplicate content issue is one reason Google prefers a responsive site over a separate, mobile-only site. It is also more efficient for their spiders to crawl, and for Google to index, one site rather than multiple versions of the same site.
Another reason they prefer a responsive site is because a "single URL for a piece of content makes it easier for your users to interact with, share, and link to your content."
Additionally load time is reduced when users don't need to be redirected to the separate mobile-only site. Score three for responsive.
When users share a link with their friends there are differences between the two types of mobile sites.
Let's say you have a separate type site and one of your mobile visitors shared a page on Facebook. If one of their friends decided to check your link on their desktop computer they would see an odd looking page because it was optimized for a mobile device. This visitor may decide the link wasn't worth their time and leave quickly. This is called a "bounce" and will hurt your search engine ranking.
In contrast, when a visitor to your responsive site shared a page using their smartphone that page would look normal to both users – whether using a mobile device or a desktop computer.
Don't think that might happen? Over half of social media sharing happens on a mobile device. Score four for responsive.
Seems pretty lopsided, doesn't it? There is one situation where a separate, mobile-only website could have an advantage.
For example, if you have a huge website with many pages and the design isn't too outdated, it might be better to opt for the separate mobile style.
Instead of re-coding all those pages into a new responsive design, you could set up a separate website with your basic information and a link to the main website. That way if a mobile user only needs that basic information, she would see it on the mobile site. But she would have the option to click over to the main site for anything else.
In this case, choosing to go with separate sites could save you time and money. However you would probably need to update your entire site eventually.
Are you ready to update to a responsive website?
With more people using mobile devices to go online, you need to cater to them or lose them to your competition.
Do you remember when we thought a website was nice, but not necessary, for business? Now most businesses wouldn't survive without a website.
Mobile-friendly websites are the new necessity.
Getting some serious love for your company's tweets can be a bit of a challenge. After all, you have to fit a lot in a tiny space.
However with a lot of creativity and a dash of luck you can whip up some lip-smacking tweets. Here are three of my picks for the 'Best Use of Twitter by a Big Brand.'
First, we have Starbucks. Now people who know me well would wonder why I've included coffee in my 'best' list. You see, I'm allergic to coffee. I can't even walk down the coffee aisle in the store without sneezing. But it's such a great idea; I just had to include them.
Most companies use Twitter to tell their fans about their products or services. They might talk about features or upcoming sales, but how many actually sell their product online, instantly? Remember, we're talking coffee here.
Starbucks had a great idea. Customers could connect their Starbucks and Twitter accounts to send gift cards to friends.
Need a birthday gift? Tweet a gift card. Want to say 'I'm sorry' to your sweetie? Tweet another card.
Over 27,000 people tweeted coffee to their friends and had the cash registers ringing to the tune of $180,000.
Good thing no one thought to tweet some to me. Achooo!
That was a well-planned campaign, but sometimes being in the right place, at the right time leads to something great.
Now you don't normally think of Arby's Restaurant and the Grammy Awards in the same sentence, but by being ready for anything Arby's was able to get a bit of the limelight.
Arby's uses Tweetdeck to listen for any mention of their brand name and when someone tweeted that Pharrell Williams' hat looked like the Arby's logo, Arby's jumped in – 'Hey @Pharrell, can we have our hat back?'
Of course, the tweet got lots of attention and the conversation continued over the next several weeks whenever Pharrell wore the hat in public. Eventually he listed the hat on eBay and sold it for over $44,000 – to Arby's – who donated the money to charity.
Although it wasn't planned, the Arby's team was ready for any mention of their brand. I imagine the bean counters were pretty happy as they estimated that amount of engagement from paid advertising would have cost somewhere around $22 million.
Good catch, Arby's!
The third campaign was carefully planned, but with built-in flexibility to take advantage of whatever happened.
Advertising during the Super Bowl is super expensive and competing for attention during the game is super hard – action on the field, action around the TV, food, commercials…
Cutting through all that noise was a little tweet – 'Who kkmew theis was ghiong tob e a baweball ghamle.'
Yep, it got noticed.
Everyone thought someone at JCPenney was drunk. Not really unusual during the Super Bowl, but using the company's Twitter account? Somebody's head was going to roll.
JCPenney waited a bit to gauge the reaction, then tweeted once more – 'Toughdown Seadawks!! Is sSeattle going toa runaway wit h this???'
This was a marketer's dream. It went viral.
Almost half-hour later JCPenny tweeted again – 'Oops… Sorry for the typos. We were #TweetingWithMittens.' This time they included a picture of knitted mittens holding a smart phone. These mittens had a logo – 'Go USA' – in preparation for the Winter Olympics.
Three tweets, timed right, and a bit unexpected, turned into thousands of new followers, lots of media coverage and massive sales on mittens.
Touchdown JCPenney!
So, put your thinking cap on and see if you can come up with something useful, clever and maybe a little unexpected for your brand.
Last fall Google rolled out another algorithm update called Hummingbird. And every time they make a change, website owners scramble to 'fix' their websites.
Keywords are dead! My website will disappear! The sky is falling!
Whoa now! Stop and think a minute. You've been providing quality content on your website, haven't you? If so, relax. Hummingbird is a good thing.
When Google changes their algorithm it's to improve the search results.
Previous changes to the algorithms helped weed out results that were nothing more than keyword-stuffed crap. Hummingbird takes it another step further. It tries to determine the searcher's intent from the context using conversational search.
According to Search Engine Land, "…Hummingbird is paying more attention to each word in a query, ensuring that the whole query — the whole sentence or conversation or meaning — is taken into account, rather than particular words. The goal is that pages matching the meaning do better, rather than pages matching just a few words."
For example, say you need to fix your leaky faucet. In the old days, you'd probably use search shorthand and type 'fix leaky faucet' which would get you lots of links to plumbing companies' websites.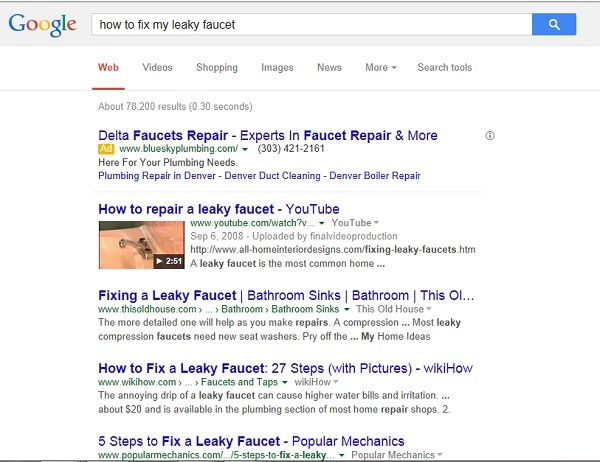 If you typed out the entire question 'how to fix my leaky faucet' you would probably still get some links to plumbing websites, but you would also get some 'how to' articles. Have you ever noticed some search terms are highlighted in the results? Those are the terms the search engine actually used – 'fix' and 'faucet'.
With the Hummingbird algorithm, you might see a couple of plumbing company ads, but the organic results will be 'how to' articles. You will also see synonyms. Did you notice 'How to repair' instead of 'How to fix'?
Google's search engine continues to evolve.
People understand context. For example, you might start a conversation with a friend:
"Hey, I talked to Mary today."
"Really? What did she say?
We know that 'she' refers to Mary, but to the old search engines those were two separate and different sentences. It couldn't make the connection.
As Google's Hummingbird develops it will better understand words and their relationships. It's even starting to connect two queries which means it will know who 'she' is.
Do we need to change our SEO?
If you have original, high quality content, no.
However writing for users, rather than search engines, is more important than ever.
Here are some things to keep in mind:
Use your key words, but also use synonyms. Remember both 'repair' and 'fix'?
In addition to quality, make your content specific. Instead of writing about 'tomatoes', write about 'growing scrumptious tomatoes on an apartment balcony.'
It's still important that your titles be clear and straightforward. Keep in mind the needs and intentions of your readers.
Also keep in mind users are generally looking for in-depth content that satisfies a need, rather than the 'me too' content.
Feel better now? It's not such a scary thing. You can focus on your business and not worry about becoming an authority on SEO; just write quality content that your audience will love and Google will love you too. Promise.
You might also like:
Not being a sales-y type of person – 'You don't want to buy this widget, do ya?' – I've always wondered if great salespeople were born that way or if they had to learn their craft.
After reading this book, I'd say a large part of salesmanship can be learned.
Dr. Cialdini spent nearly 40 years researching what makes people change their behavior. Using that research, he determined there are six principles of persuasion:
reciprocity,
commitment and consistency,
social proof,
liking,
authority,
and scarcity.
The book is easy to read. And I often found myself dumbfounded by his revelations. No wonder I said 'yes' when I really wanted to say 'no!'
Why do we do that?
Because it takes less brainwork to use shortcuts to keep up with the demands of everyday life instead of analyzing every decision. If we had to make conscious decisions about everything we do, we'd be overwhelmed. So we generally choose autopilot instead of thinking logically.
Unfortunately these short cuts can be exploited by salespeople or any wanting to get their own way.
Cialdini explains each principle and provides plenty of interesting examples – sometimes from his own family life – to help you understand how to apply them. He also explains how to defend yourself against someone else using them.
According to the author, "the drive to be (and look) consistent constitutes a highly potent weapon of social influence, often causing us to act in ways that are clearly contrary to our own best interests."
Take, for example, buying toys for your kids. Have you ever braved the crush of shoppers during Christmas-time to get that one toy your child just had to have, only to find store after store was out of stock? Hopefully you didn't promise Junior would get that toy because now you have to find a substitute.
And guess what? The commercials for that special toy start up again in January. Junior wants it and – surprise! – it's actually in stock now. Coincidence? Nope. Toy makers found a way to bump up their post-holiday sales by advertising that special toy before Christmas, but under delivering enough stock so you had to substitute. If you promised it in December and it shows up again in January now you feel compelled to buy it – even if you're already way over your toy budget.
Another principle, called reciprocity, makes us feel indebted when someone gives us a gift, even an unwanted gift. The followers of Hare Krishna used this principle quite successfully. Say you're running late to catch your plane when suddenly someone steps in front of you and hands you a flower. Without thinking, you take it, but you don't really want it and try to hand it back. They refuse and tell you it's a gift, but a small donation would be appreciated. You try again to hand it back – unsuccessfully – and now you feel uncomfortable. Quid pro quo is part of our nature. You can't give the flower back, but to keep it makes you feel indebted – so you reach for your wallet.
The most startling revelation was the use of the word 'because.' It seems too simple to work. But it does. For example, pretend there's a line to use the office copier and you're in a hurry. So you tell the first person in line that you need to use the copier first because you need to make copies. Huh? Why would anyone accept that reasoning and let you go ahead? And yet Dr. Cialdini says using a request plus a reason – even a weak reason that adds no new information – works over 90% of the time.
It might be useful to look at various ads and marketing messages to see if you can spot some of the techniques mentioned in the book. You might also get some ideas for your own advertising.
I recommend reading this book – whether you want to reach higher sales goals, get your way more often in your personal life, or just want to know how to recognize and defend yourself against the various principles.
It will change the way you look at the world.
Cialdini, Robert. Influence: The Psychology of Persuasion. New York: Harper
Because I just got back from Roswell, NM – famous as the site of a UFO crash in 1947 – and because I'm a big fan of science fiction I thought I'd show you how to jump into social media using a SciFi example.
Stranded in a galaxy far, far away – hmmm, wrong intro. Well, anyway, it fits this show too. So, our intrepid explorers can't get back to earth, but they can travel to other planets in the 'local' galaxy by means of a Stargate that can harness wormholes.
Problem is, they need supplies. They may also need a place to go if their base floods. (They gated in to the ancient city of Atlantis that sunk in the ocean. Just not an ocean on Earth. And now the shield holding back all that water is about to fail. Cue scary music.)
So the Atlantis team goes through the Stargate to a nearby planet where they meet Tayla. (I think guys call her a 'warrior goddess.') She doesn't know these strangers and hasn't even heard of them before. Being a cautious sort, she tells them they won't trade with strangers.
Not very helpful for our explorers, but understandable.
The crusty, old colonel gets his dander up and figures he'll force them to trade. (The team has big guns and bullet-proof vests and stuff). But the affable John Shepherd jumps in and says, "Then we'll just have to get to know each other."
He starts off by telling her he like Ferris wheels and anything that goes more than 200 miles per hour. Plus he likes a good cup of tea. "Now there's another thing you know about me. We're practically friends already."
No force. Just friendly.
That's a great start, but now John needs to listen to Tayla. What does she like? What is she afraid of?
Being a warrior goddess, there isn't much that she's afraid of, except for The Wraith. (Aren't there always bad guys?) They're dang hard to kill and have super cool jets that can beam people up.
It's pretty hard for Tayla's people to fight against the Wraith so John scores lots of brownie points by helping them.
So how can you put this to use in your social media marketing? It's pretty easy, really. Much easier than exploring worlds in another galaxy…
Be open and friendly.
Listen to your customers.
Offer to help them with any problems they might have.
As for me, I keep hoping they'll bring back Stargate Atlantis. There was so much left to explore in the Pegasus Galaxy.
We all use the Internet to find answers to our questions and the first thing we do is open our favorite search engine, type in a few keywords and click 'search'.
If you've ever wondered what goes on behind the scenes, here's a video from Google that will help explain what happens and how it decides which pages might interest you most.
As a small business owner, you should listen carefully to the questions Google asks about each page it finds because that will help you optimize your website for search engines so your site can rank higher and bring you more visitors.
One marketing tactic the food industry uses to influence what we buy is color. (And no, it's not just the food industry doing it.)
Red means stop and pay attention,
black can mean high quality,
white is purity
and now green means natural.
It's enough to confuse even the most careful shopper.
A recent experiment had volunteers look at a picture of a candy bar. Some looked at a picture of a bar with a red label and some looked at a bar with a green label. Then they were asked how healthy they thought it was compared to other candy bars. More people thought the bar with the green label was more healthy, even though everything was identical except the color of the label.
Then they added a twist to the experiment – same pictures of candy bars, but this time the label was either green or white and the volunteers were asked to rate how important healthfulness was in their food buying decisions. Volunteers who didn't place much value on eating healthfully, rated both bars about the same. But volunteers who did care about healthy eating rated the bar with the green label considerably higher. Again, the only difference was the color of the label.
Was the difference because the healthy eaters thought the green label meant the candy bar was more natural? It's important to pay attention when you're shopping.
Did you know grocery stores have been using similar tactics for years? Aisles are just wide enough for two carts to pass each other. You not only have to slow down to pass, but stop entirely when one cart is in the middle or when a third shopper comes by. Marketers know when you get someone to slow down or stop there's a better chance they might see something else they might want to buy.
Casinos do the same thing. Twist and turn through the narrow aisles between the machines and you might decide to spend more money.
There are also the end caps – the shelves at the end of each aisle in the grocery store. Do you think they're highlighting that week's specials? Sometimes. But marketers know you have to walk by the end caps every time you turn the corner AND when you're walking along the front or back of the store.
Prime real estate!
So, yes, they'll put some specials there because shoppers expect sales, but mostly they're going to put the high margin items there knowing shoppers might think they're on sale and buy more.
Along the aisles, the things they want you to buy are clustered about 5 feet above the floor. Marketers know that's about eye level for most shoppers and its easier for shoppers to notice products at that height. A different brand of the same product – just as good – might be placed higher or lower, making you do a little more work to choose it. Worth checking out though because you might just find a better deal.
Kid's products are an exception. I bet you'll find the priciest and most enticing kid's products clustered about 2 to 3 feet off the ground.
Here comes mom, toddler in tow, and what does he spot? That brightly colored, must-have toy or what-not. Think mom's going to get out of the store without buying it? Well if she doesn't buy it, I'll bet people a block away will hear what her toddler thinks about that!
How can you use some of these tactics to manipulate – um, 'encourage' – your customers to buy more?
WordPress is wonderfully easy to use and, at the same time, tremendously complex.
If your site is built on WordPress, check out the infographic below to learn about some common errors. Some errors are an invitation to hackers – kinda like leaving the keys in your car while you run in to the store. Other errors are not as bad, but they make you look, well, silly.
Like this infographic? Get more WordPress publishing content from Copyblogger.
Here's a recap:
Slow Load Times
The White Screen of Death
Connection Errors
The "Just Another WordPress Blog" tagline
Site De-Indexed Because You Set It To "Private"
Running An Old Version of WordPress
Keeping Deactivated Plugins In The WP-content Folder
Keeping A Messay WP-admin Section
Posts That Span The Entire Front Page
Your Sidebar Shows Up Below Your Content
Phantom Homepage Gobbledygook
The Dreaded /WordPress Blog Subdirectory
Index.php In Your URL
Local And/Or Visible Backups
Visible Server Information